Community leaders discuss cops and race at Tech's Escondido Theater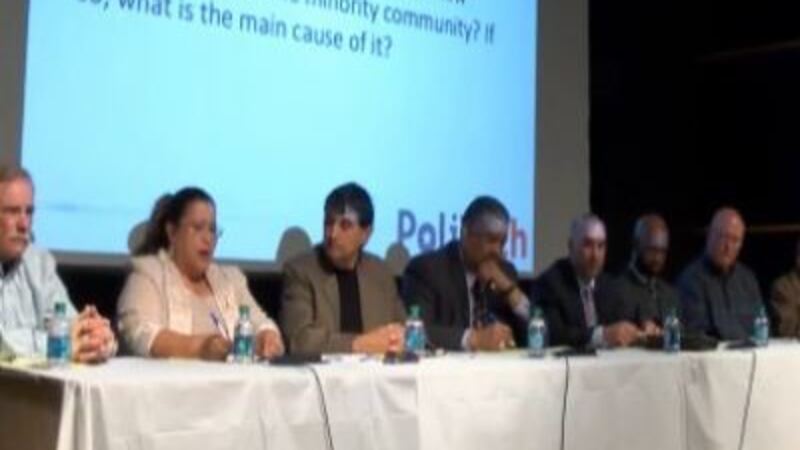 Published: Apr. 21, 2015 at 1:22 AM CDT
|
Updated: Oct. 20, 2015 at 2:40 AM CDT
LUBBOCK, TX (KCBD) - Monday night community leaders gathered at Texas Tech University's Escondido Theater to debate issues of Cops and Race in an event sponsored by Politech, a Texas Tech University student organization. The panelists spoke to a standing room only crowd.
Panelists were former City Councilman and Lubbock Police Department officer Floyd Price; Lt. Mike Nichols (Lubbock Sheriff's Office ret.); Bishop William H. Watson III, Pastor Alexander Chapel; Lubbock Co. Republican Chairman Carl Tepper; Dr. Ralph Ferguson, former municipal judge; Ysidro Guiterrez, former Lubbock Co. Commissioner; Marina Garcia, Lubbock Co. Constable Pct. 3; and Officer Darrel Crump, retired LPD.
While panelists agreed that there existed a problem between the minority communities and police they differed on causes.
Councilman Floyd Price said that knowing one another and communication was the key to understanding each other. Bishop Watson echoed those statements by saying cultural education was critical to understanding one another.
Bishop Watson said that the problem began with slavery and resentment on the part of African Americans for having been forcibly transported to America as slaves the attitudes towards minorities of forces in control today.
Dr. Ralph Ferguson observed that there have been five civil rights movements from 1777 to 1968 and that "the challenge of each was about things not having changed."
Lubbock County Republican Chairman Carl Tepper said that problems of cops and race cannot be separated from the problem of increased crime among African Americans.
Bishop Watson said that the crime problem could be traced to the problem of jobs in the African American community and the fact that people will do whatever is necessary to survive.
Towards the close of the discussion panelists Price and Guiterrez disagreed about the Ferguson, Missouri shooting. Councilman Price said that shooting Brown was unjustified and former Commissioner Guiterrez took issue with the councilman citing Ferguson courts and U.S. Dept. of Justice findings that the shooting was justified.
Dr. Ferguson argued for a better adjudication system that was fairer and more efficient. He observed that we incarcerate more people than any nation in the civilized world and spend far more money incarcerating a person than we do educating that individual.
All panelists agreed that body cameras by police is an important aspect of accountability.
Copyright 2015 KCBD. All rights reserved.