Garth Brooks and Kliff Kingsbury team up for local kids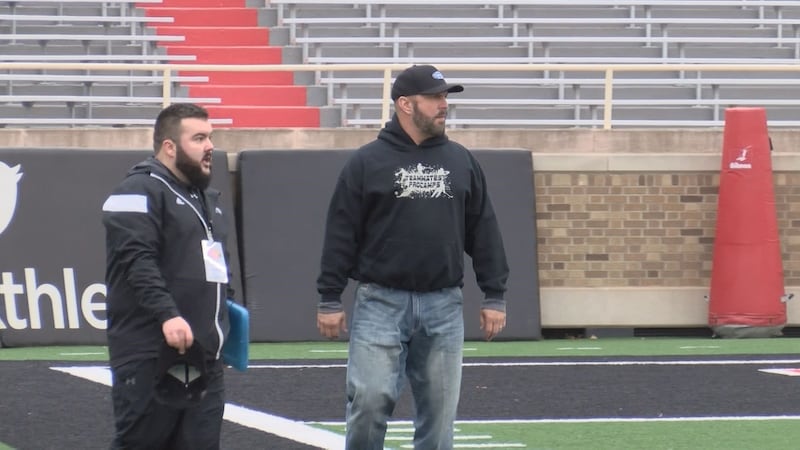 Updated: Apr. 2, 2017 at 9:52 PM CDT
LUBBOCK, TX (KCBD) - Even though his last show is over....the Garth Effect continues here in the Hub City.
Today, Garth Brooks and Texas Tech football coach, Kliff Kingsbury, partnered up to teach and boost the confidence of kids right here on the South Plains.
The groups, Teammates for Kids and Procamps, helped to host the ultimate football camp.
"They're gonna talk about skills, they're gonna talk about football, but the truth is, the underlying thing here are the words of wisdom. Courage, discipline, respect. Things they're gonna need to play the game of life," says Brooks.
Today's 'Teammate Procamp' at The Jones AT&T stadium, brought together not only Garth Brooks and Texas Tech coach, Kliff Kingsbury, but it also brought together about 100 kids from across the South Plains.
Each of the kids is a member of one of four different groups.
The Boys and Girls Club of Lubbock, Big Brothers Big Sisters Lubbock - Plainview, Lubbock Independent Schools and UpBring - Lubbock & Tickets for Kids Charities, with the common goal being for them to learn their value in this world....something Coach Kingsbury says is priceless.
"Listening to these young people, and listening to the young people talk about the words, when you sit 'em down, you ask 'em what respect means and courage and their answers, it's just a beautiful thing," says Kingsbury.
However, there was one word during today's camp that stood out above the rest...love.
"Love one another, that's the message for today. Love yourself. Love yourself means to do right, when everyone else is asking you to do wrong, that's loving yourself right there," says Kingsbury.
A message two kids in particular, took to heart.
"I think it's true, because like, love is everything, you have to love everything that you have. Your parents, your family, your sport, your everything," says Zayden Gonzalez, a member of The Boys and Girls Club – Lubbock.
"And you have to love your teammates and to make everything that happens, to make everything happen," says Espn Garcia, also a member of The Boys and Girls Club – Lubbock
"You're seeing that these kids out here, when you play football, all the sudden, color doesn't matter. All the sudden, your neighborhood doesn't matter. It's all about what happens on that field and that's a great thing," says Garth.
Even though he's an Oklahoma State graduate, Garth says he felt at home today inside the Jones.
"This is pretty cool what we talk about, because we draw our lines, we wear our colors, but in this stadium, for these kids, forget about cowboys, forget about red raiders, we're all human beings that love the sport of football and we all love kids and that's what brings you together," says Garth.
As Garth tours, there will be a Teammates Procamp similar to this one in each city.
If you would like to volunteer at any of the organizations located here on the South Plains, just follow the links below.
http://www.lubbockbgc.org/, http://www.bbbslubbock.org/, https://www.upbring.org/.
Copyright 2017 KCBD. All rights reserved.