WAR OF WORDS: Sign war between Pure Water & Wendy's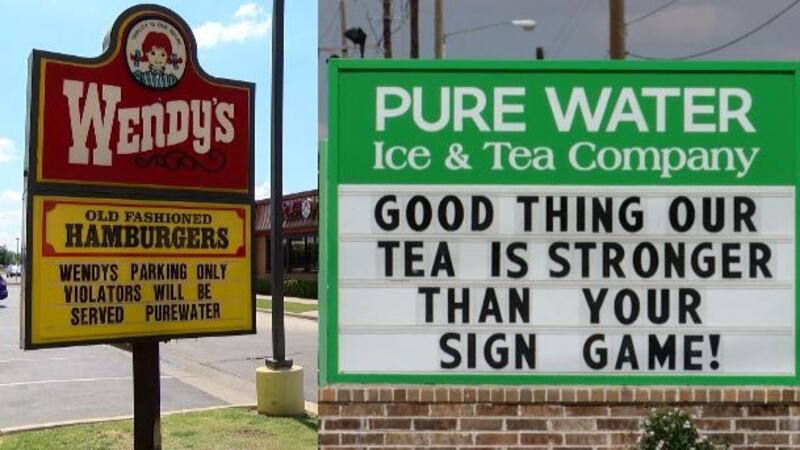 Updated: Jun. 6, 2017 at 1:54 PM CDT
LUBBOCK, TX (KCBD) - If you've passed by 4th and Frankford lately, you may have seen some interesting signs up at the Pure Water Tea and Ice Company and Wendy's.
Something is brewing between these two businesses, and, no, it's not the tea. It's a war. A war of words.
"It's on," said Kyler Smith, Assistant Manager at Pure Water Tea Ice & Tea Company.
Kyler says he's been trying to provoke his food-chain neighbor with clever signs for a while now, and Wendy's finally took the bait when Pure Water went for the big dogs. "We had Kliff Kingsbury drinks for free out on the sign."
"The owner he's like say, Santos man, they're standing out. You're clever, you're witty, I know you can come up with something," said Santos Perez, General Manager of the Wendy's.
"They kept telling us corporate wouldn't let them do anything, so I guess corporate is firing back," said Smith.
"So, I went ahead & just replied 'Hey Kliff, hungry and thirsty? We got you.' and they didn't like it," said Perez.
And the sign war was born.
"So we were like, you want beef, Wendy's? You got it," said Smith.
"I didn't expect them to react the way they did, and then when they did I was like, you know what? It's on," said Perez.
Each sign, carefully crafted.
"Group meeting, we'll come up with something," said Smith."
No words exchanged, only letters.
"We haven't talked at all, just through the signs," said Perez.
And when one changes, the other fires back.
"I was actually going to change it this morning then I saw theirs & I thought I definitely gotta change it this morning," said Perez.
When will it end? Nobody knows.
"Until one of us can't think of something," said Smith.
"Til they stop I guess," said Perez.
Or possibly, when the man who started it all picks a side.
"He still hasn't come in, so Kingsbury, come inside," said Smith. "Hey Kliff man, come see us, we're waiting on you!" said Perez.
Copyright 2017 KCBD. All rights reserved.