Texas Tech to celebrate West Texas oil, gas industry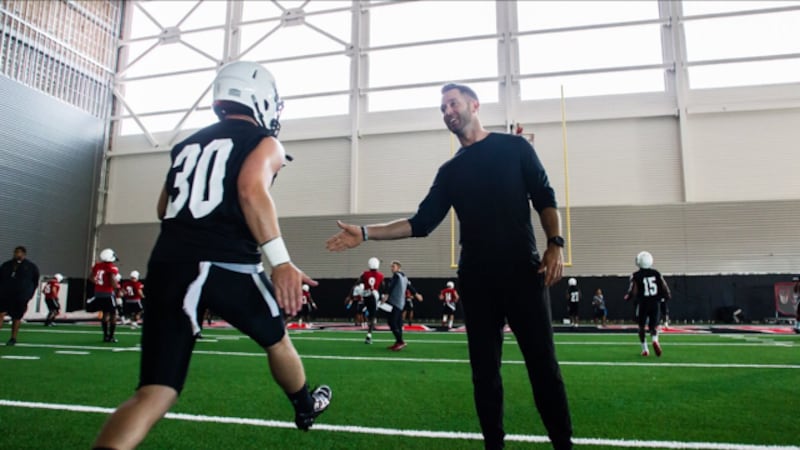 Updated: Aug. 12, 2017 at 2:26 PM CDT
Provided by Texas Tech Athletics 
LUBBOCK, Texas – Texas Tech will celebrate the West Texas oil and gas industry on Sept. 30 when the Red Raiders host Oklahoma State at Jones AT&T Stadium. The "Celebrate Energy Game" is part of a partnership between Texas Tech Athletics, the Rawls College of Business, the Permian Basin Petroleum Association and many of the top oil and gas companies throughout the area. 
 
As part of the game, Texas Tech is calling for a "Blackout" of Jones AT&T Stadium as fans are encouraged to wear black to cheer on the Red Raiders and to celebrate the oil and gas industry that is so vital to West Texas.
 
"The oil and gas industry has been great supporters of Texas Tech Athletics and we look forward to honoring their support with our inaugural 'Celebrate Energy Game,'" Texas Tech Director of Athletics Kirby Hocutt said. "West Texas is home to one of the largest areas of oil production in the country and we're excited to celebrate our partnership with this important industry."
 
On an annual basis, the oil and gas industry is responsible for more than 500,000 jobs in West Texas alone as well as $137.8 billion in economic output. In addition, oil and gas businesses contribute more than $71.1 billion to the gross state products of both Texas and New Mexico.
 
West Texas is home to the largest oil and gas region across the globe as 18 percent of the world's rigs and 70 percent of those in Texas reside in a 250-by-300 mile area that spans 54 counties in both Texas and New Mexico. This area alone produces 2.7 million barrels of oil equivalent (BOE) each day.
 
Sponsors for the game include Apache Corporation, Bee Equipment Sales, Diamondback Energy Inc., Divine Energy Services, Double Eagle Development, Halliburton, Peak Completions Technologies Inc., Permian Basin Petroleum Association, ProPetro Services Inc., Rawls College of Business, Smart Chemical Services and West Texas National Bank.
 
Ticket packages are still on sale to catch the Red Raiders in all six games at Jones AT&T Stadium this season. Season tickets are available for as low as $184 a seat and can be purchased online or by contacting the Texas Tech Ticket Office at 806-742-TECH.
 
The list of ticket options also include mini-plans for $120 each, allowing fans to choose one game between Oklahoma State or TCU and then two others from Eastern Washington, Arizona State, Iowa State or Kansas State. The Red Raider Pass, a mobile-only season ticket selection, is still on sale as well for $150 a seat.