Strong to severe thunderstorms possible Sunday and Sunday night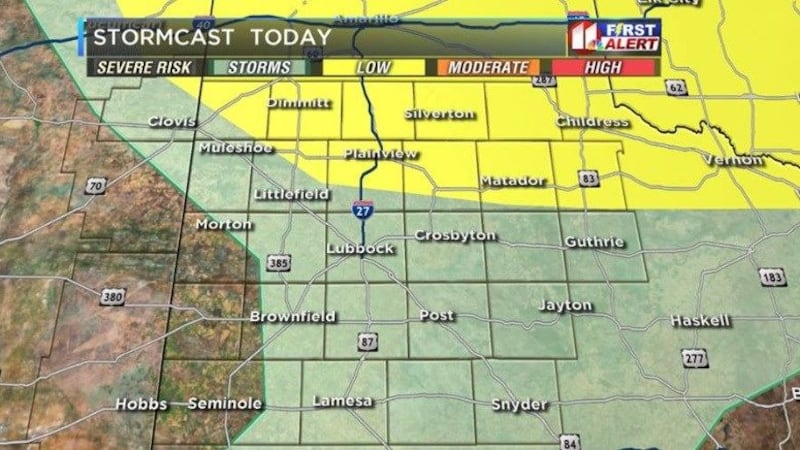 Updated: Jun. 24, 2018 at 4:38 PM CDT
LUBBOCK, TX (KCBD) - A cold front and dryline will bring the risk for strong to severe thunderstorms across the area Sunday afternoon and Sunday night.
The highest risk for severe thunderstorms will exist across the Northern and Eastern half of the viewing area from Plainview to Floydada, Matador and Paducah.
Storms in this region will be capable of producing large hail, wind gusts over 70 mph and isolated tornadoes, especially in the YELLOW shaded areas across the South Plains and Low Rolling Plains in the image provided.
Temperatures have warmed to between 100 and 110 degrees ahead of the cold front providing plenty of heat to fuel thunderstorm development this afternoon and tonight.
In addition, storms may fire up across New Mexico and track across the viewing area later tonight during the overnight hours.  This activity favors the Texas Panhandle near Amarillo, but will be close enough to monitor locally.
Lubbock will have a risk of storms later this evening with the risk for large hail and strong wind gusts although Lubbock is on the southwestern edge of severe weather potential Sunday and Sunday night.
Remain weather alert this afternoon and tonight.
Copyright 2018 KCBD. All Rights Reserved.